The 90/10 Rule is one of the most helpful concepts for life and time management. According to this principle: 10 percent of your activities will account for 90 percent of your results. This can change the way you set goals forever!
What Is The 90/10 Rule?
You might have heard of the "80/20 Rule" AKA the "Pareto Principle" named after it's founder, the Italian economist Vilfredo Pareto from 1895. Pareto noticed that people in society seemed to divide naturally into what he called the "vital few," and the "trivial many".
Based on my personal observations with clients over the years, I've concluded that It's 10% or even LESS in some circumstances that contribute to ultimate success in your life and business.
This spawned from an activity I do with ALL of my clients over the years called the "Freedom Plan" in which I work with them to identify all the different tasks they do on a daily basis over a period of time. We work to determine which can ONLY be performed by them, that utilize their "Unique Abilities" – like clockwork, most EVERY Freedom Plan reveals that 10% or less of the activities are truly something they SHOULD be doing.
Therefore it is suitable to apply the 9010 LIFE rule to almost any situation. In particular, we can apply it to goal setting and productivity.
90/10 Rule In Action
If you have a list of ten items to accomplish, only one of those items will turn out to be worth more than the other nine items put together.
If you have a list of ten items to accomplish, one will be worth more than the other nine items put together.
The sad fact is that most people procrastinate on the top 10 percent of items. However, these are the most valuable and important – the "vital few".  Instead, they busy themselves with the least important 90 percent, the "trivial many," which contribute very little to their success.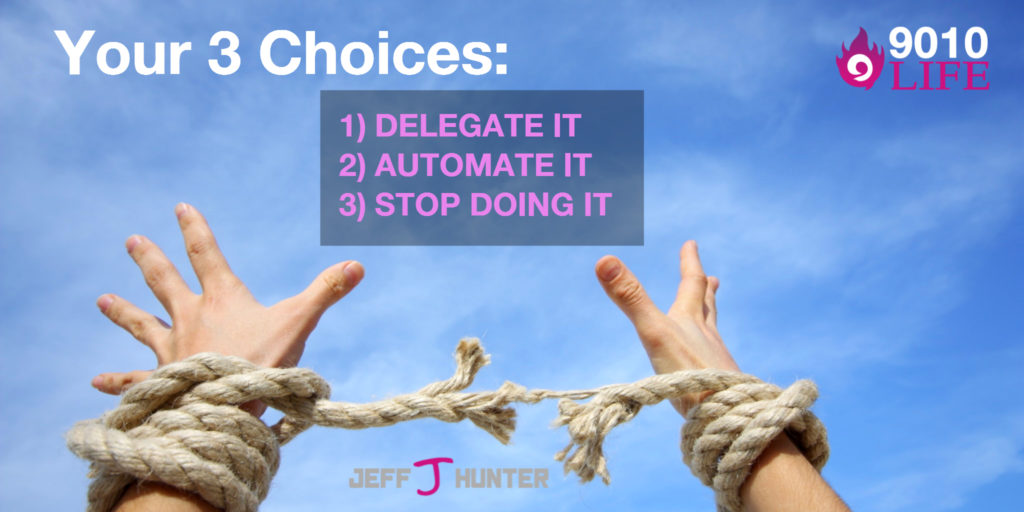 How To Apply The 90/10 Rule
Here's what you should do in order to effectively apply the 90/10 rule to goal setting and to your overall productivity.
First, take a piece of paper and write down ten goals. Then ask yourself: If you could only accomplish one of the goals on that list today, which one goal would have the greatest positive impact on your life?
After completing this exercise, your choice will determine the most important goal. Achieving this goal will help you much more than any of the other goals on your list combined.  Ensure that you continue to work at the goal which you've chosen as the most valuable all the time.
This does NOT mean the other 90% of your work goes away, but you must make three choices for the other 90%:
A) Delegate it
B) Automate it
C) Stop doing it
Accomplish The Biggest Task First
Often, you may see people who appear to be busy all day long but seem to accomplish very little. This is almost always the case as they are busy working on tasks that are of low value. On the other hand, they are procrastinating on the one activity that could make a real difference to their companies and to their careers.
The most valuable task you can do each day is often the hardest and most complex. The payoff and rewards will make completing them truly worth it.
Before you begin work, always ask yourself, "Is this task in the top 10 percent of my activities or in the bottom 90 percent?"
The rule to adhere to here is: resist the temptation to clear up small things first!
Choosing to start your day working on low-value tasks, will cause you to soon develop the habit of always starting and working on low-value tasks.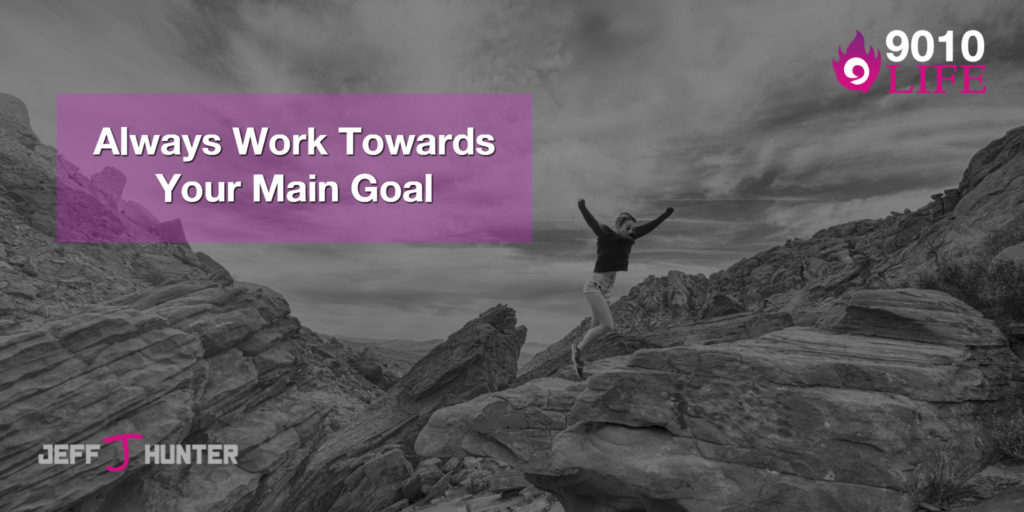 Always Work Towards Your Main Goal
Finally, let's discuss this study that has just been done about the attitudes of rich people versus poor people in regard to goal setting. The study found that 85% of rich people have one big goal that they work on all the time.
Therefore, if you want to be wealthy, perhaps you should do what wealthy people do. Pick one big goal and work on it all the time. If you do, it will change your life.
Before we wrap up, I'd like to leave you with a thought to share with your friends and followers:
"Your income right now is a result of your standards, it is not the industry, it is not the economy." – Tony Robbins
Those are my strategies for applying the 90/10 Rule to goal setting.
My questions today are: "Have you used the 90/10 Rule for goal setting? If you have, what changes have you noticed in your life?"
How To Use 9010 Lifestyle To Achieve Success
Dreaming big dreams has always been the starting point of great success. Nothing works faster than for you to cast off your own limitations. Begin dreaming and fantasizing about the wonderful things that you can become, have, and do. Nothing is more important, and nothing works faster.
William Shakespeare wrote, "Do not be like the cat who wanted a fish but was afraid to get his paws wet." You must be willing to take the necessary steps to achieve your goals. When you make attempts and attain the success within reach, your levels of self-esteem and self-confidence will go up immediately. You will feel empowered about yourself and your ability to deal with what happens to you. The reason why so many people accomplish so little is because they never allow themselves to take action and achieve the kind of life that is possible for them.
Theory Of Constraints
As outlined by Eliyahu M. Goldratt and Jeff Cox in their  "Theory of Constraints" –  is a set of tools to achieve positive change agents which can be used to manage constraints, thereby increasing profits. Thus making it possible to use this powerful principle to dream big dreams and live without limits. This is one of the greatest breakthroughs in modern thinking.
Goldratt found that in every process when seeking to accomplish any goal, there is a bottleneck or choke cord that serves as a constraint on the process. This constraint seeks to set the speed at which you achieve any particular goal. If you concentrate all of your creative energies and attention on alleviating the constraint, you can speed up the process faster than by doing any other single thing.
Allow me to illustrate using an example. Well, this is actually a true story. Imagine this! I was a very successful Project Manager for an AMAZING company. I was working 10-12 hours a day average. I was SLAVING my butt off for years and years. And I wasn't seeing the progress of my hard work and dedication as I was doing everything in my business myself.
After working 10 – 12 hours a day for the years which ran by, I'd be exhausted. Needless to say, I was also watching my family fall apart. My stress levels were off the charts but I felt trapped. I needed my job to provide for the needs and well-being of my family but the time I was spending at my job made the home situation worse. I wanted to give up!
BUT THANK GOODNESS I DIDN'T GIVE UP!!!
My utilization of the 90/10 lifestyle has afforded me with the drive to dream big and succeed. I quit my job at that amazing company and went into business for myself. I knew that I had a great skill and was certain that after so many years of polishing my craft that I could competently handle my own business.
Since mastering what I've shown you on the webinar I have:
Created a self-running business powered by a virtual team

Successfully grew a six figure business while having a FULL-TIME Job

Taught hundreds of others to get MORE work done by doing LESS themselves.
On the 9010 Life webinar, I show you HOW you can walk in my success footsteps. By outsourcing work you hate you make more money, have better relationships and most importantly you're happier! I will teach you how to live the 9010 Life.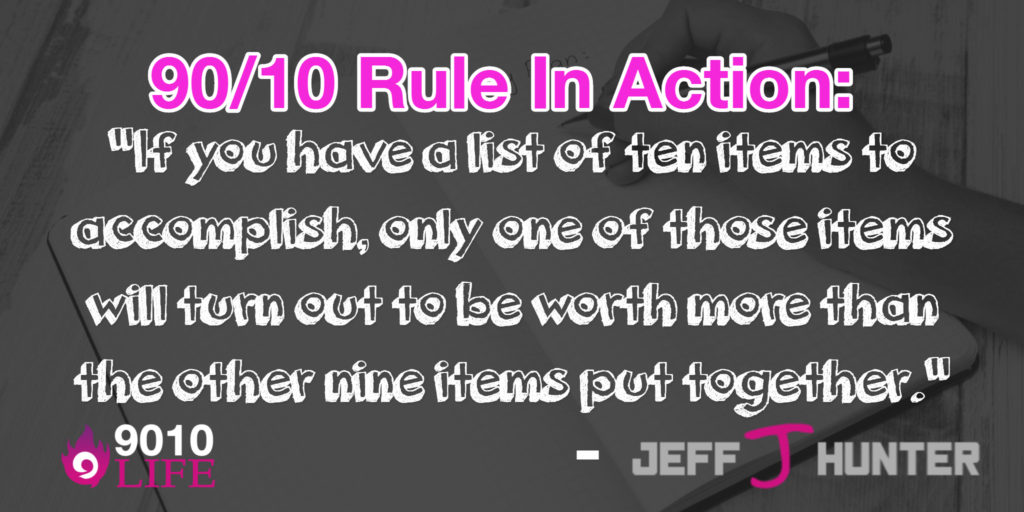 The 90/10 Rule In Action
My "Virtual Assistants" do over 90% of my work for me. No crap! No BS! No making stuff up! I literally figured out how to delegate 90% of what I did to virtual assistants and freelancers around the world. Don't think for a minute that achieving this was an overnight achievement. There were many times I fell along the way. I went through hell out there, to get to where I am today!
I successfully launched my own business SOLELY POWERED by a 100% virtual team.
This is not an attempt at self-praise nor conceit. I've been humbled by the journey it took to get me here and I feel somewhat scornful when people treat me like a hero when I go to conferences now. I'm just a normal person who created a foolproof system to delegate effectively, and build an incredible virtual team!
What Are Your Constraints?
Constraints refer to the things, whether real or imagined which prevent you from achieving your goals. Therefore it is important that you identify the factors holding you back? Is it your level of education or skill? Is it your current occupation or job? Is it your current environment or level of health? Is it the situations that you are in today? What sets the pace for you achieving your goal?
Bearing in mind that learning should never stop, you can unlearn the things which debilitate your progress. It is possible to get yourself out of the situations which you have gotten yourself into, but you must be willing to identify the constraints which prevent you from seeing the silver-lining which accompany the clouds.  
Living the 9010 Life
To truly harness the power of the 9010 Life you must first identify the most valuable activities you do in your life. There is a proven method to determine this, along with your own time value within the 9010 Life Program. I also unleash the power of delegation and automation through systematization – this could sound challenging, but I've developed a STEP-BY-STEP process to follow that can free you from the 90% of your activities keeping you from the 10% that's bringing you the most valuable.
Sign up for the FREE 9010 Life Webinar and learn these three secrets:
1) By outsourcing work you hate… you make more money, have better relationships… and you're happier!
2) Reliable and Skilled Virtual Assistants are EASY to find and train to do work for your business
3) Having A Team Of Virtual Assistants [or just a Virtual Assistant] is LITERALLY the fastest path to your FREEDOM
Register now! https://9010LIFE.com