A Reflection from the Ultimate Stage Experience: Recap Video
First off, let me start by saying a 3 letter word that sums up the Ultimate Stage Experience – "WOW".
The crew of Serious Take Productions are really a class act. I was honored to invited to speak as the sponsor of the VIP Luncheon with the "who's who" of the event, it was a great event overall with around 100 people from the attendees to the dozen or so speakers.
The Crew put together this amazing video to highlight what VA Staffer is all about at the Ultimate Stage Experience:
The "Public" Life and Why the Ultimate Stage Experience?
That is just the beginning of the story of the Ultimate Stage Experience. You see, this was also my first ever "Live Event" that I sponsored. There's a reason, not because I wanted to make new business (which of course we always do but it wasn't my main goal – I didn't even bring a business card!) but because I wanted to support a great team and take the plunge into the next realm of my own personal development.
It all starts on how I MET Tamara Thompson (at least virtually). So I'm a huge fan of the Entrepreneur on Fire Podcast and John Lee Dumas and lo-and-behold Tamara was on his show explaining how she took her passion and made it into a career. She also spoke on the podcast episode how she found strategies to get people's attention, connect with them, and offer them something of value with the intent to build valuable partnerships and relationships with them (even if you have to work for them for free at first!)
It inspired me.
I really felt that I had a connection with Tamara at that moment and it actually was the first time I realized the power that a podcast could have on a listener. Through the podcast I was so intrigued with her story, her mission, her struggles, her dedication that I ended up taking her quote, putting it into a picture quote using a cool tool called Stencil and then posting it to her Facebook page with a cool note how she inspired me. Minutes later, she was messaging me and we were already putting her own words to use by me living her words through my actions.
Here is the result: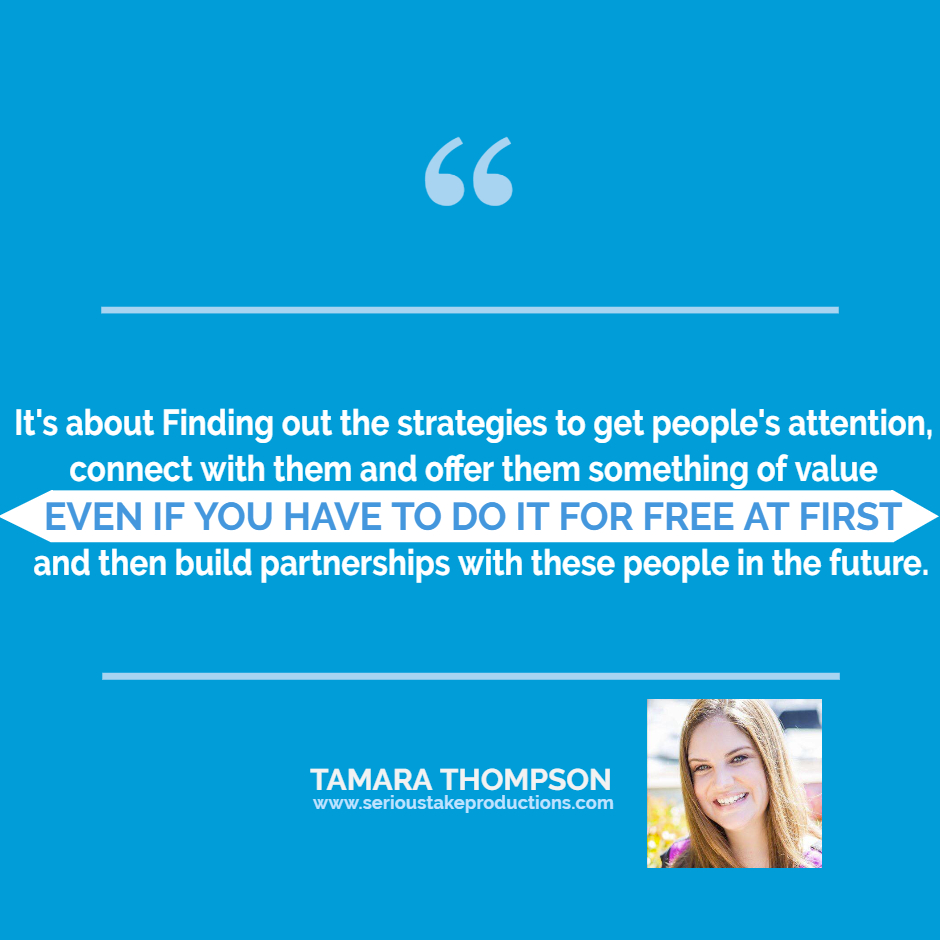 Not long after our Facebook chat we were already having my assistant Cavika set up a call to discuss a partnership of our own.
Video is a powerful Platform
Now, I knew right away that Tamara was going to be a stellar contact for me because she's in the business of telling stories and helping other people tell their stories. You see, up until I launched my own Jeff J Hunter website, I had operated as the face of my company VA Staffer but wasn't working very hard to develop my own brand. What you're going to get here on my website is my own journey, my whole experience from start to finish – so this blog is really about the "Start" of my public life. The way to do that is through events, and video. Business is about people, and from the video I showed earlier, I stand by my words- "the one thing you can't outsource is relationships."
[clickToTweet tweet="The one thing you can't outsource is relationships. – Jeff J Hunter " quote="The one thing you can't outsource is relationships. – Jeff J Hunter "]
So I made an investment in my relationship building in real life (IRL), and by stepping up the connections I made with people through the strongest platform there is virtually – video.
This year, I was super happy to have hired Devon, my videographer – who's been working really hard to document my journey through video. We shot this video recap of the event here and Devon (Mr Video himself) masterfully edited it:
I've Realized that I HAVE to Come Out of My Shell
Over the years, I have become very comfortable in just doing a call or an email. Now don't get me wrong, I've always preferred face-to-face meetings over other forms of interactions with fellow humans – BUT that is in a different arena. You see, doing outsourcing with virtual assistants has been a HOBBY of mine that I developed over the past four years, it wasn't something that I really thought would turn into something so grandiose.
I never in my LIFE thought, that I would be traveling to the OPPOSITE side of the world to build relationships with such amazing people like this: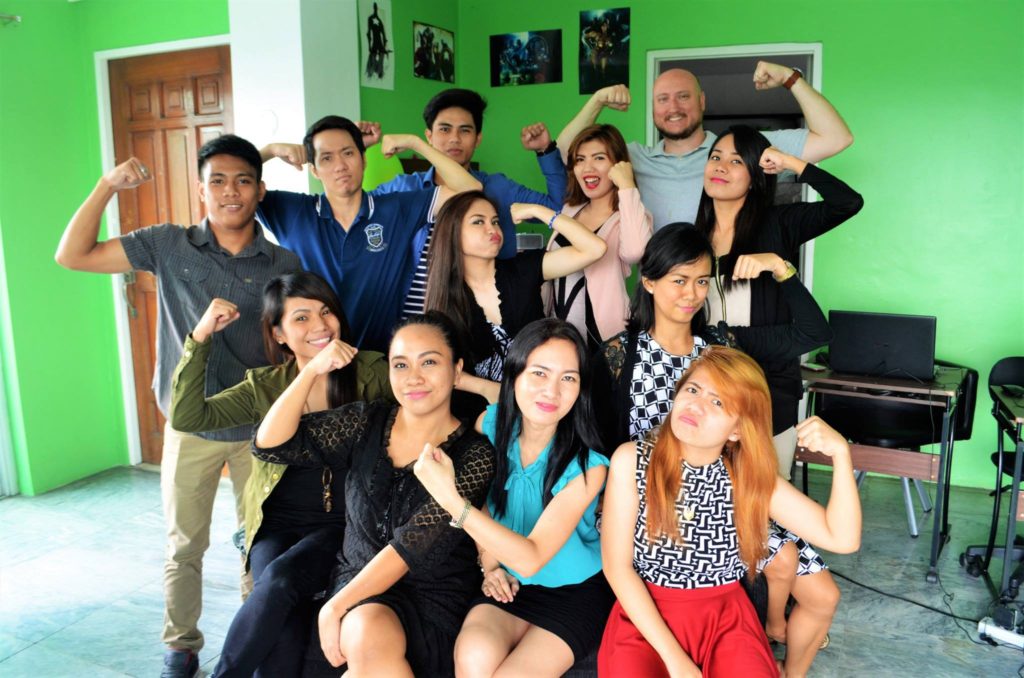 Before I became the "Outsourcing Tycoon" I was an IT Administrator & Project Manager for the past 10 years. I LOVE technology, it's absolutely exhilarating to me, and I've always been doing web development projects since before I was out of high-school, all through college… even during every career in my life. It's been a HUGE passion for me.
I am a CREATOR. There's something special about that feeling when something you thought of becomes a reality.
[clickToTweet tweet="I am a CREATOR. There's something special about that feeling when something you thought of becomes a reality." quote="I am a CREATOR. There's something special about that feeling when something you thought of becomes a reality."]
Many years ago, I began looking for help virtually – before the invent of the "gig" economy that's now online with places like "Upwork" and "Fiverr" which by the way – good luck if you can find anyone ACTUALLY useful and RELIABLE on there anymore.
I never thought that the skills I had gained over the years of IT and Project Management would lead me to the day where I'm a sought after expert in Virtual Team Building.
Ultimate Stage Experience and Why I Saw HUGE Value in the Event:
I really wanted to prove to my own self internally that I could interact outside of a boardroom with executives planning out their multi-million dollar projects (which is what I'm comfortable doing as a Project Manager)
The event had around 100 people including some really great speakers like these guys (Matt Maddix and his son Caleb Maddix) along with Amy Yamada, American Idolist Jessica Rose, and SO many more.
By the way if you haven't seen my blog >> how I reached hundreds if not thousands on Snapchat with that filter I made myself and promoted for only $18.16 cents. << You should.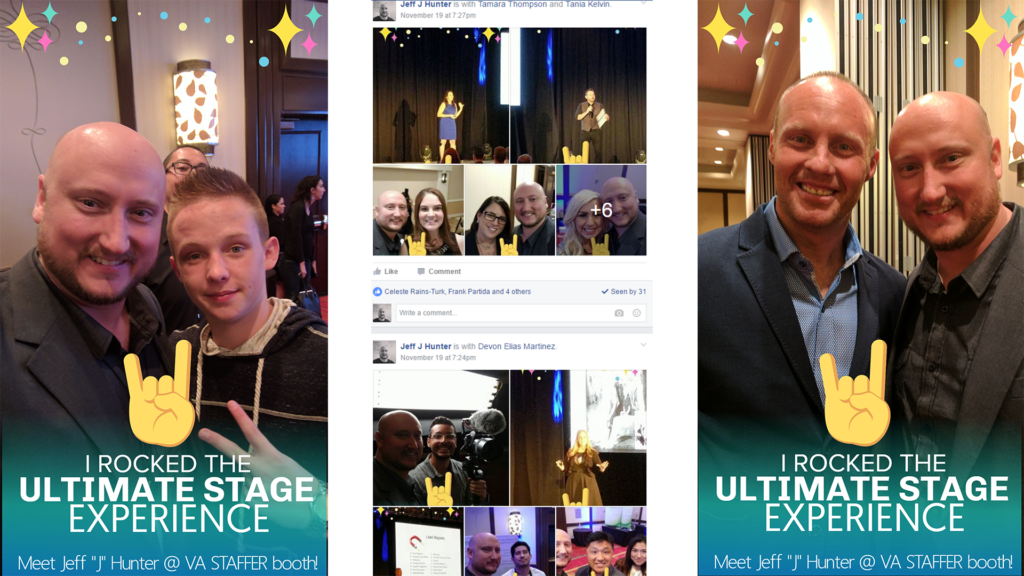 The connections from these live events are really insane, as an inbound marketing agency I don't even spend a single penny on advertising. All the traffic I get from my website is gained from good old fashioned WORK on internet realm by creating great content, getting the word out and PROMOTING LIKE HELL on social media.
In Closing
I was truly inspired by the speakers, I was moved by the stories. More and more the importance of story telling – the ability to build a connection with people and relate to them, is a CRITICAL part of ANY business, not just theirs. It's MY story, it's YOUR story.
Now go out there and be great.

P.S. Add me on SnapChat – take a picture of this on SnapChat