3 Years Today I hired my Team Manager. ✊ She was the worst (and still is) interview I ever had. Again, TODAY – she is my team manager.
If you know anything about building a team in-sourced or Outsourced… That's a long time ?️… ESPECIALLY in the Virtual Assistant world.
Crazy to imagine the story behind Rhodora – but I want to paint this picture for you.
Over 3 years ago, I was starting to grow my "Virtual Team", I put a few ads out (the wrong way by the way lol) and I got a TON of responses…. I mean I was FLOODED with people….?
I spent (and wasted) a lot of my time doing interviews ? – typically of the wrong people.
Very frustrated, I kept getting an email from this applicant. She told me that she really wanted "a job". ??
To be honest, when someone says that to me, I already say no ?.
And I did.❌
She wasn't happy about that, she persisted ?. Day after day, she asked for a shot.
I finally got tired of her emails and decided to finally read her resume or "CV" as they call it in the Philippines.
I was appalled by it, she had 2 years of education ? (unfinished) shooting for an Information Technology degree.
She had ZERO ? job experience.
She had a newborn baby, and recently married, and now dropped out of college to start her family.?‍?‍?
I told her she needed to get some experience and come back.
She wasn't going to take that answer, she emailed me persistently asking for a chance.?
To be honest, I gave her an interview because I liked her determination, and I loathed her emails.
So on to the interview, to summarize it with a sentence was…
"The Worst Interview I've Ever Had" ?
It was awkward silence – I heard her mic crackle.?
I kindly told her that it wasn't going to work.
TWO DAYS LATER….?
She sends me an email ?, that she was nervous, that she will be better, to give her another chance.
I told her no, it's not going to happen, she needs experience.?
She persisted her emails, and begged for just one last interview, and was confident she would do better.?
She did, but to summarize the interview….
"The Second Worst Interview I've Ever Had" ?
She was quiet, her English was broken, it was definitely strange, she did get a few words out like "Yes Sir" and "OK Sir"
Of course, I said, this isn't going to work… You don't have enough experience, and you need to practice your English.
1 Hour after the Skype call, she sends me guess what… Another email ?
She told me something that just blew me away, it's a drive ?️ you don't see anymore… Determination to the Nth degree…
She said "Sir, I need experience, and no one will give it to me, I will work for you FOR FREE ? as long as it takes to prove my value to you, and you will want to hire me". ?
What do I say to that? I mean, I have a lot of things I'm wasting my time on, and I thought… I like this mentality, this never-give-up attitude – it can't be taught. ?
Following the 90/10 Principle I knew I was wasting my time on 3 major things:
1) Data Entry ?
2) Data Mining ?️
3) Verifying Contact Information ?
I had a list of a couple hundred contacts that I needed help finding web addresses?️, emails?, and phone numbers? – I estimated it would take me at least a week to do here and there throughout the week.
I gave this to her, I asked her to find the information and send it back.?
With the same determination and persistence, less than 24 hours she send me an email with a completed worksheet. ?
I don't even know if she slept, I think she worked on it the whole way through – it was a lot of work.
I hired her RIGHT there. She proved her value in less than 24 hours. ?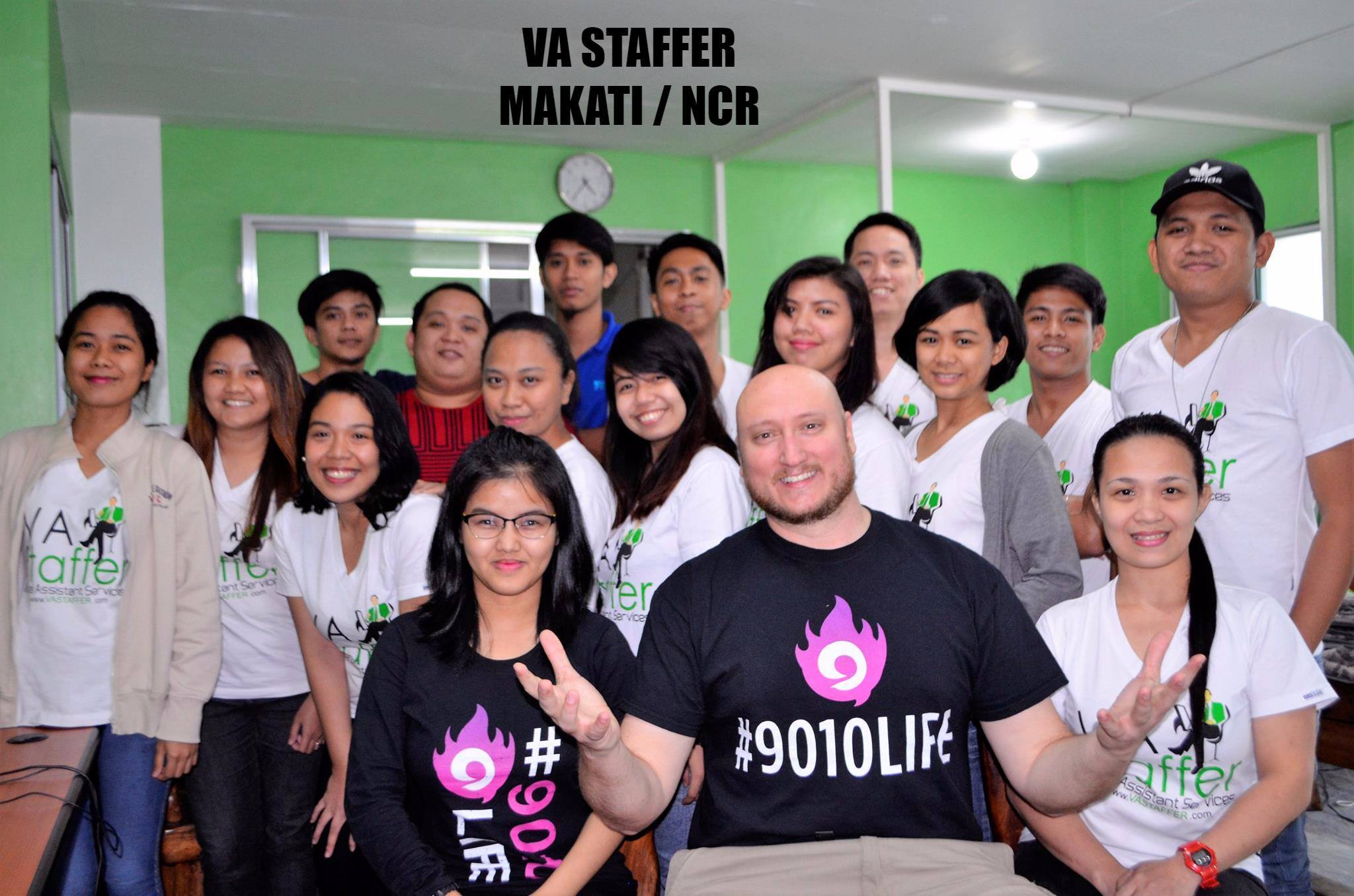 Fast forward 3 years later, 8 raises, and 4 positions – she's now my team manager and oversees all operations for my 50+ person team that RUNS itself. ?️
Congratulations on us both putting up with each other for 3 years, and a lifetime of them to come.
She's told me many times that she's ready to power my operations for life… ☠️⚰️
She's even asked me to be the Godfather for her children, (which is a responsibility I definitely don't feel qualified to accept).?
This is the type of team you need to truly grow a successful virtual team.??
Thank you for allowing me to live the 90/10 Life, and get ready for an incredible journey,