If you're doing Account Based Marketing, then you know prospecting for clients is time consuming! That's why you'll notice that a lot of startups, coaches, and entrepreneurs are leveraging the power of a Virtual Sales Assistant.
The past 4 years I've been consulting businesses all over the world to build their virtual teams to use this exact same account based marketing method I'm about to show you.
And here's why:
Because while an inside sales team is wasting time finding new prospects, a virtual assistant (or team of them) can literally do that for you. All you and/or sales team has to do is build relationships and close deals.
It's pretty cool — see, Sunday nights are one my most productive times. Literally, my team is operating at full-speed which is Monday morning in the Philippines.
Heavy Lifting of Account Based Marketing Outsourced
The leg work of my Virtual Assistant business is done by my amazing virtual assistant team… all I have to do is build relationships with ALREADY qualified leads and close the deals. That's it.
I've never had to sell this… it SELLS itself because there's not a sales team in the world who thinks that their time is spent well finding contacts that is literally something a virtual sales assistant for 7-8 bucks an hour can do (oh yeah, and they hate doing it anyways).
GIVE THEM WHAT THEY WANT PEOPLE!
Here's one of my LinkedIn growth hack strategies that we're currently implementing (which is getting me dozens of leads daily — while I'm in Mexico with my wife and kids):
Create an Irresistible LinkedIn Profile
— this is pretty standard marketing advice but this all boils down to understanding your target market. But it goes without saying that it's 100% true. For example, we're targeting startups, SaaS companies, and software companies that are looking to scale but don't have the capacity to grow/train their team.
So, with that in mind, I'll use what I know about my target market — their pain points, the problems that their businesses face — and create my profile in a way that let's them know I have a solution (because I do). 😉
Account Based Marketing Lead Generation on Autopilot
— here's where your virtual assistant team comes to play. Big time. See, I used to waste all my time messaging leads. And when it came down to building relationships with the interested leads, I'd be so spent mentally that I couldn't be there mentally 100% (or just didn't have enough time left in the day to actually follow up).
This is where having a virtual sales force has changed my life dramatically. They identify, qualify and send connection requests to over 50 leads a day. (My virtual assistant Layenne (pronounced Lay-"n") calls this "prospect fishing" lol!) They simply send a copy and paste message that addresses my target markets major pain points – and modify it with their names and/or other data points.
Couple this step with step #1 and you've got yourself one dangerous combination for total lead generation overkill on LinkedIn.
Here's some of the connections and leads my virtual assistant was able to generate on Friday using this strategy: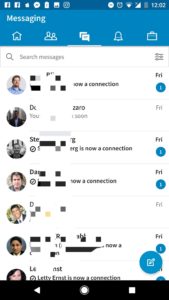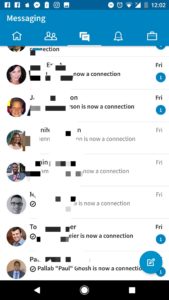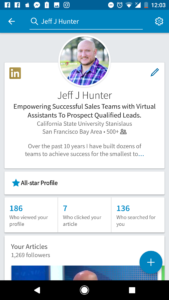 I had a total of 21 new connection requests accepted on Friday, I had 7 responses, and 4 of them requested a spot on my calendar after I come back from vacation – that's right – even sent one a picture of me and my family from the beach.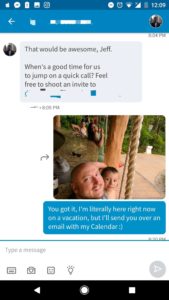 Pretty cool, right?
This is just the tip of the iceberg of what we go over in my live training seminars (you didn't seriously think I'd just give it all away to you right here, did'ya?).
Want to use this account based marketing strategy for yourself and not ready for a VA for some crazy reason? Learn how to leverage a virtual assistant team so you can close deals without ever having to prospect again at VirtualAssistantMarketing.com

PS. This proven strategy and 5-Video Training Series that we've used for over 4 years to farm hundreds of thousands of contact details of decision makers is INCLUDED as a BONUS in the 9010LIFE.COM Program
Check out the 9010 Life Webinar where I show you three secrets I've learned to build your own virtual team (the right way).